Lyme WNY, "Lights up Lyme on the Lake"
Posted 7 months ago by Toronto Charities / 169 views
Saturday May 04, 2019 Lyme WNY "Lights Up Lyme on The Lake" at Buffalo Riverworks. Many Buffalo landmarks will be lit up green for Lyme.
About this Event
Purchase your Tick Check Special Ticket before 12:00 am on 01/23/2019 to be entered to win a Lyme WNY Basket.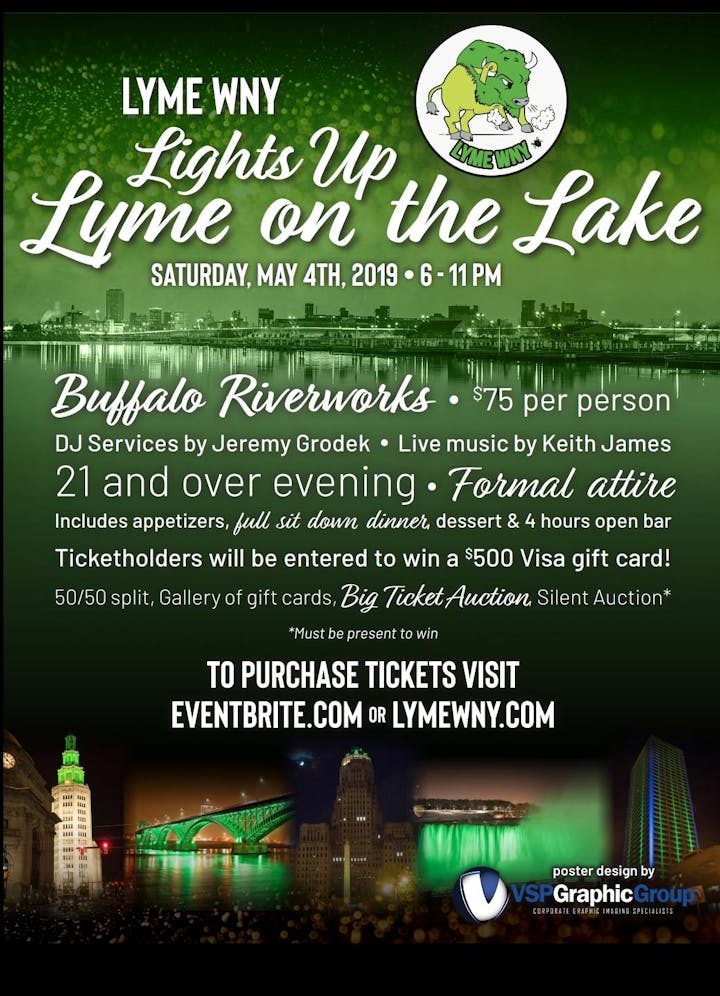 On Saturday May 04, 2019 Lyme WNY "Lights Up Lyme on the Lake" will be held at Buffalo Riverworks. The purpose of the event is to disseminate knowledge about Lyme disease and to earn money to further the mission of the group by funding the costs of medical treatments, foster education and advocacy, disseminate informational materials, meeting costs, and support future Lyme WNY related events.
Tickets are $75 per person and will include four hours of open bar, appetizers, sit down dinner, and dessert. With live music by Keith James and DJ services by Jeremy Grodek. Each ticket sold will be entered into win a door prize of $500 Visa Gift. There will also be a "gallery" of gift card raffle, 50/50, big ticket raffle, and silent auction.
Please note this event is Formal Attire and 21 and over only.
You are unable to pick/reserve specific seats on mobile devices. In order to pick/reserve specific seats you must purchase from a desktop or laptop. Otherwise, seats will be automatically assigned to you.
Ticket sales will end April 13th 2019. There is a limited number of tickets available, purchase early! Come and help Lyme WNY raise money to further our mission to stomp out Lyme.
If you are unable to attend we will gladly accept donations at lymewny.com, thank you for your support!
If you are interested in becoming a sponsor at this event please contact Lyme WNY at contact.us@lymewny.com